Mobile Deposit Capture
With Mobile Deposit Capture, CSCU makes it quick and easy to deposit checks right from your smartphone!
Make deposits 24/7 with your iPhone or Android device
Benefit from the security of password protection, internet firewalls and 126-bit encryption
Onscreen guide and tips for depositing your checks available on our website
Enrolling in Mobile Deposit Capture
From a desktop computer, log into CSCU Online.
Click on the Services tab, then Mobile Check Capture.
Click Enroll Now.
Agree to the Mobile Deposit Capture disclosure.
You are enrolled in Mobile Deposit Capture! Login to the CSCU Mobile App to begin using the service.
Using Mobile Deposit Capture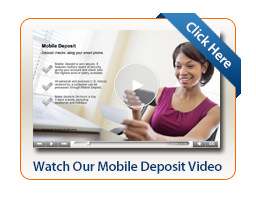 Is it easy to use? Of course! Deposit checks in a few simple steps:
Endorse the back of your check with your signature.

Launch and log in to the CSCU app.
Touch the Deposits button, fourth button from the left. Buttons for iPhones are displayed at the bottom of the screen; buttons for Androids are displayed at the top of the screen.
Touch New Deposit.
Turn your phone sideways and take a picture of the front of your check. Make sure all four corners are visible on your screen. If they are not, touch Retake Picture. If they are, touch Use Picture.
Flip the check over and repeat for the back of the check.
Review the check information and confirm that you want to make the deposit by touching Yes.
Touch the Deposits tab.
Touch View Deposit History and you will be able to see your pending deposit.
Mobile Deposit Capture service is currently only available for consumer accounts.
Frequently Asked Questions
Why use Mobile Deposit Capture?
Mobile Deposit Capture saves you time by allowing you to deposit checks when and where it best suits you, so rather than being limited by in-branch or drive-up hours, you can deposit checks 24/7 - even on weekends! This means you can get checks into your account much sooner than having to work around branch hours. And with password protection, internet firewalls and the latest 128-bit encryption, you can rest assured your deposit experience is safe and secure.
Are there limits on Mobile Deposit Capture?
Yes. There is a per deposit limit of $3,000, and a daily limit of $3,000.
Will I receive instant credit for my deposits?
No. Each check will need to be reviewed by a teller, just as if you were bringing it by the bank. Once a teller has had the chance to review the check, they will process it or contact you if there is any issues.
How long will it take for me to receive credit for my deposit?
Deposits are only reviewed and approved on regular business days (deposits are not processed on weekends or holidays). Mobile deposits may take up to two business days to be credited to your account.
How do I use Mobile Deposit Capture?
Login to the CSCU Mobile App, touch the deposits button on the screen, then new deposits. Follow the directions to take a picture of your check - it's that simple!
Which button do I need to select on the mobile app to begin using the Mobile Deposit Capture?
Select the "Deposits" button.
Do I need to endorse my check?
Yes, please endorse the back of your check with your signature and "Mobile Deposit" beneath your signature.
How long should I keep my check?
Once you verify that your check has been deposited by reviewing your account history, you can dispose of your check.
Will I receive confirmation my check image was received?
No, you will receive no confirmation that your check was deposited. You will simply see the deposit in your account history.