Identity Protection / Credit Monitoring
Fraud Protection Notice: It is the policy of Community Service Credit Union to NEVER solicit information or identification, social security numbers or passwords via email or text message.
Further, Community Service Credit Union will not send email or text messages regarding cancellation of services or issues on your account. If you receive any email or text message with any such references please do not reply to the text/email and instead contact Community Service Credit Union immediately at 936-295-3980.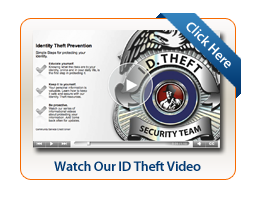 What exactly is identity theft?
Identity theft occurs when someone other than YOU uses YOUR personal identifying information to open new charge accounts, accounts, loan, or make purchases using your open charge accounts and bank accounts without your consent or knowledge. These criminals are more commonly known as identity thieves.
What type of information are identity thieves looking for?
The most common types of information used in identity thefts, but not limited to, the following:
Social Security Number
Date of Birth
Bank Account Numbers
Credit Card Numbers
Personal Identification Numbers (PINs)
How can an identity thief get my information?
Stealing bank account and credit card statements from your mailbox
Dumpster Diving – digging through trash for statements or other mail with personal information
Stealing wallets with personal identification information, credit cards, and other account information
Obtaining personal information electronically through illegal means (ex: hacking, phishing)
How can I protect myself from identity theft?
Store all personal information in a safe place.
Enroll in e-Statements for all bank accounts and any other account that may send you a monthly statement. E-Statements are typically delivered to a secure location that require logging in with a password, identifying a security image, and in cases when the computer isn't recognized, answering security questions.
Protect all PINs and passwords. Never write your PIN number on your debit cards or credit cards. If your wallet becomes lost or stolen, anyone that picks it up would have instant access to your accounts!
Check account statements regularly. Report any discrepancies to the bank or merchant immediately.
Check your credit report annually, at least. All consumers are entitled to one free credit report a year from annualcreditreport.com.
How does the credit union protect my identity?
Community Service Credit Union will never give out personal information to anyone over the phone without first confirming that you are another authorized signer are on the other end of the line. For your security, we may request to call you back at a number on file or ask you to confirm other personal identifying information before releasing any information. Please note that Community Service Credit Union will never ask you to email or text your account number or other personal identifying information. Any such activities should be reported to CSCU immediately.